Splendours of the Commonwealth 2014
For the second year, CCLEF celebrated London Fashion Week at The May Fair Hotel with a dazzling Splendours of the Commonwealth Fashion Event
London, September 2014.  The registered international charity Commonwealth Countries League Education Fund (CCLEF) celebrated London Fashion Week for the second year by hosting the Splendours of the Commonwealth event on Monday September 8, 2014 at the May Fair Hotel in London, the "Official Hotel of London Fashion Week".
Building on the success of last year's event, the programme was a glittering affair, showcasing talent and fashion design throughout the Commonwealth.  This fund raising event is organised by trustees, friends and sponsors of the Commonwealth Countries League Education Fund (CCLEF) and is sponsored by The May Fair Hotel and HSBC.
Confirmed guests and celebrities include members of the Diplomatic community of the Commonwealth, CCLEF supporters and senior influential women representing UK business, fashion enterprise and global women's campaigns. Representatives from CCLEF's board of Trustees hosted the event, which was compered by Ramesh Vala OBE.
Upon arrival,  guests were welcomed with champagne and canapés, accompanied by musical entertainment from around the Commonwealth. Centrepiece of the evening was the spectacular and colourful catwalk presentation showcasing talented fashion designers from 6 Commonwealth countries and another exclusive finale from Jenny Packham, one of the UK's top British designers. Ribboning throughout the evening were the fascinating and inspirational profiles and clips from the Girls at the centre CCLEF's fund-raising work around the world. Extensive media covering the event included iconic fashion magazine Marie-Claire.
Auction and Prize Draw 2014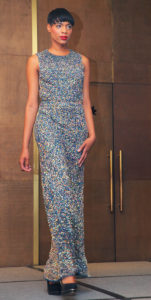 The evening was topped off with a fast moving auction and prize draw, featuring designer auction lots and prizes. All of the money raised from the Draw and Auction will go directly to sponsor girls' secondary education in parts of the Commonwealth where, without financial assistance, they would not be able to afford to go to school. The evening was brought to a close with a performance from The Ngāti Rānana London Māori Club, which was followed by wine, champagne and desert canapés, providing a perfect networking opportunity for guests present.
Judith Fisher, Splendours event organiser and CCLEF Hon. Treasurer, said, "As a charity, we depend on our sponsors and supporters, and once again, we are deeply honoured and grateful to The May Fair Hotel owners for their ongoing and generous support. We are also fortunate to have the assistance and direction provided by our SOTC Organising Committee, which includes CCLEF Trustees and representatives from The May Fair Hotel team, Fashion Lookout, Market Accents and Shelly Stock Hutter, among many other supporters. Such invaluable assistance, coupled with the equally generous sponsorship from our lead sponsor HSBC plc, has contributed immensely to bring this spectacular event to life once again."
View our picture album here.